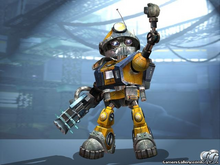 I have been a gamer since I was little and I have started programming my own games.
But through all the games I have played my favorite is by far Metal Arms: Glitch In the System.
Others I have a great time with are Starcraft, Roller coaster tycoon (the original), sid meier's civilization III, Space empires V, Oblivion and Morrowind those are my favorite older games.
Some newer game a like are Warframe, Unturned, and some others
Community content is available under
CC-BY-SA
unless otherwise noted.