Very little is known about the prototype builds of Metal Arms: Glitch in the System
What is known so far is that the player was not Glitch, and was instead another droid entirely whom is unnamed; possibly still known as Glitch at the time.
This page, until enough information is revealed to piece together the prototype days of Metal Arms, will serve as a pool of random information that can be confirmed whether or not it is from the prototype builds.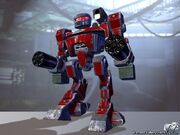 Community content is available under
CC-BY-SA
unless otherwise noted.