The first vehicle
Glitch
encounters, the
Loader
is natively a hovercraft used to move crates and heavy objects around, equipped with a claw and a Level 1 
SPEW
of
Droid
design for the war. The Loader can be driven by the player in multiple parts of the game, but in most cases is first driven by a
Grunt.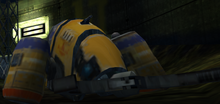 Not specifically designed for combat, Loaders can move large objects with their claws including other robots. Anything smaller than an Elite Grunt or a Titan, crates, and other players in split-screen multiplayer. The Loader is a big heavy industrial machine originally used for lifting & moving heavy objects around. In the wars between the Mils and the Droids, it was outfitted with a S.P.E.W. on the upper-front half of the hull. Large and bulky, the loader offers good protection from the front, but with little protective plating on the back, it quickly becomes an easy target to pick off.
Appearances
Edit
Community content is available under
CC-BY-SA
unless otherwise noted.